Maharashtra Women's Commission inaugurates it's new divisional office at Mulund, Mumbai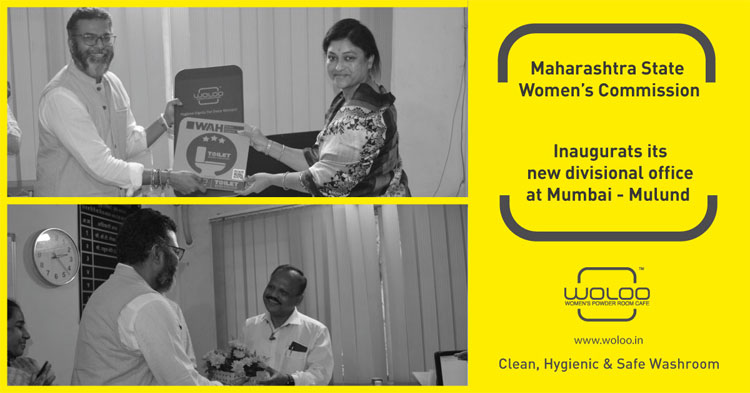 Woloo congratulates Mrs. Anita Patil (IFS) Honorable Member Secretary, Maharashtra State Commission for Women and Mr. Rahul More, Divisional Dy. Commissioner, Woman and Child Development Department Konkan Division, Mumbai, at the inauguration of their new divisional office of Maharashtra State Women's Commission in Mulund on 8th March, 2021 on the occasion of International Women's Day.
The department aims to ensure holistic, physical, psychological, cognitive, and emotional development of women and children. Woloo is honored to be a part of this journey intended to ensure women empowerment.
Woloo expresses gratitude to Mrs. Anita Patil (IFS), Mr. Rahul More, and Dr. Dayanand Sonsale (Bodhi, NGO) for their generous support and the recommendation from the Maharashtra State Commission for Women.
Furthermore, Woloo extends a special thank you for their assistance in garnering the permission of Hon. Adv. Yashomati Thakur, Cabinet Minister for Women & Child Development Department, to inaugurate the Woloo App a free lifetime membership for the women employees of all government departments.
Says Mr. Manish Kelshikar, Founder/CEO, Woloo, "Women empowerment is the primary focus of Woloo and we are honored with the support that we have received from Mrs. Patil and Mr. More to help us spread awareness about our mission. The intent to create Woloos across the country arises from the need to ensure dignity and hygiene for women from all segments and sectors of the society. With a similar vision, the support and recognition that we have received from the department reinstates our aim and mission and will help us to further our goal of ensuring that clean, safe, and hygienic washrooms, a basic necessity, are easily available for women across the city."