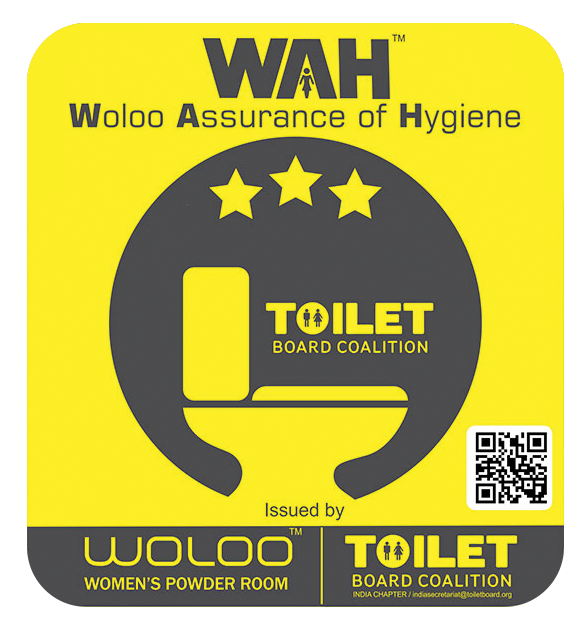 for Safe, Clean, Hygienic
and Accessible Washrooms
Woloo Assurance of Hygiene (WAH)
In the "new normal" world, safety & hygiene are primary concerns when we go outdoors. Now, as malls, salons, stores, cafes, colleges & other public places open up in stages to welcome customers again, how do we assure the hygiene standards of washrooms while we are outdoor? 
This is an important concern, especially for women.
Introducing Woloo Assurance of Hygiene (WAH), India's first verifying symbol for hygienic washrooms initiated by WOLOO in association with Toilet Board Coalition (TBC) – A Global Star Toilet Standard Guide & Certification body, Switzerland. Woloo Assurance of Hygiene (WAH) is the symbol of commitment to every Woloo customer towards providing Safe, Clean, Hygienic & Accessible washrooms.
Get access to all our WAH certified washrooms by downloading the Woloo App
Compliance Criteria to become a Host
Location Accessibility
Woloo-Host retail facility location must be easily located. The access to washroom must be easy & convenient.

Safety & Security
The location of Woloo-Host facility must be safe and secure for women customers.
Hygiene & Cleanliness
Hygiene & Cleanliness of the washroom must be the top priority of Woloo Host.

Quality of Fitting & Facilities
The quality & Condition of the fitting at Loo Host washrooms must be top class & well maintained.
Hospitality & Courtesy
Woloo-Host must ensure courteous & comfortable hospitality standards towards customers..
If you are a Premium Restaurant, QSR, Café, or any other retail business outlet with a safe & hygienic washroom, here is an opportunity for you to attract more customers & also earn extra money. All you need to do is upgrade your existing washroom as per WAH (Woloo Assurance of Hygiene) standards & be a part of our loo discovery network on Woloo App.