The Ninja Stay Safe Moves – [Woloo – Hygiene Tips]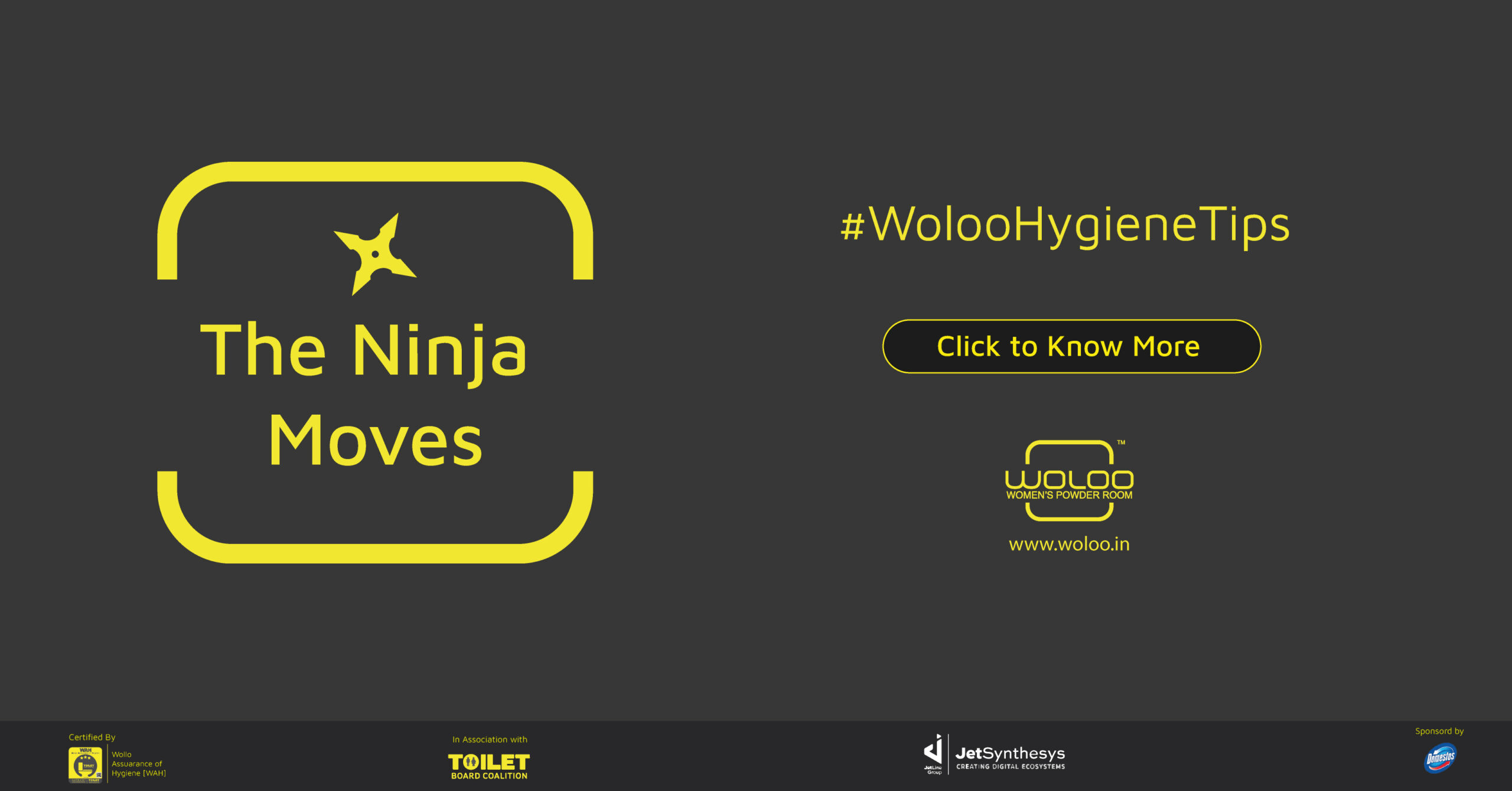 The ninja stay safe moves!
Stepping out for a bit but forgot to make the 'just before I leave' toilet trip? Ouch, that isn't fun and especially if the outing is long. However, no matter how hard we try, some of these 'relieving pit stops' are unavoidable. Have you ever walked into a public toilet, held on to the sink or the door handle, hovered in mid air and accomplished the task of peeing? Feels like an achievement, doesn't it? After all, you avoided coming in contact with the dirtiest part of the toilet, the toilet seat. But lo and behold, that is not true… Without realizing, you are probably carrying a lot of the sneaky germs with you… If you are wondering how, read on to find out the places in a public toilet that are probably way dirtier than you thought!
The floor: The germs here aren't just from your shoes. Horrid, right? So, the next time you set your bag down on the toilet floor just because it looks clean or your scarf falls onto the ground and you drape it right back, think twice and imagine what all would be travelling home with you!
The faucet: Yes, the faucet. Let's go over the ritual, touch the faucet with dirty hands, wash your hands with soap, for two minutes while reciting a poem in your head, wash your hands with water, shut the faucet… see what happened… the germs that we left on the tap, right when we started, are back again… now imagine this happening about 1000 times a day!
The doorknob: Our hands reach out for the door knob next, but is it clean? Ummm… think again… The faucet horror carries on to the knob or the handle. Imagine the person before you and the person before that, definitely not the cleanest spot.
Now you could try a few ninja moves, walk on your toes, hold you bag between your teeth, pull out a tissue from your bag without putting it down, somehow twist the faucet with the tissue, wash your hands without touching the faucet, use the tissue (another one this time!) to close the faucet, use your elbow to open the door, wipe your elbow… oh wait.. did you forget to pee in the midst of all the planning?
Worry not, there is a simpler way! Just download the Woloo App and locate the closest clean, safe, and hygienic toilet.
With the Woloo Assurance of Hygiene (WAH) you do not need any of these ninja moves!
So next time you need to use the washroom while you are travelling…..
Go Bindass! ….. #WolooHaiNa
Woloo App now available on Google Play store – DOWNLOAD WOLOO APP