Ladies, Head To WOLOO Near Thane Station. It's Not Just A Washroom, But A Hygienic Powder Room!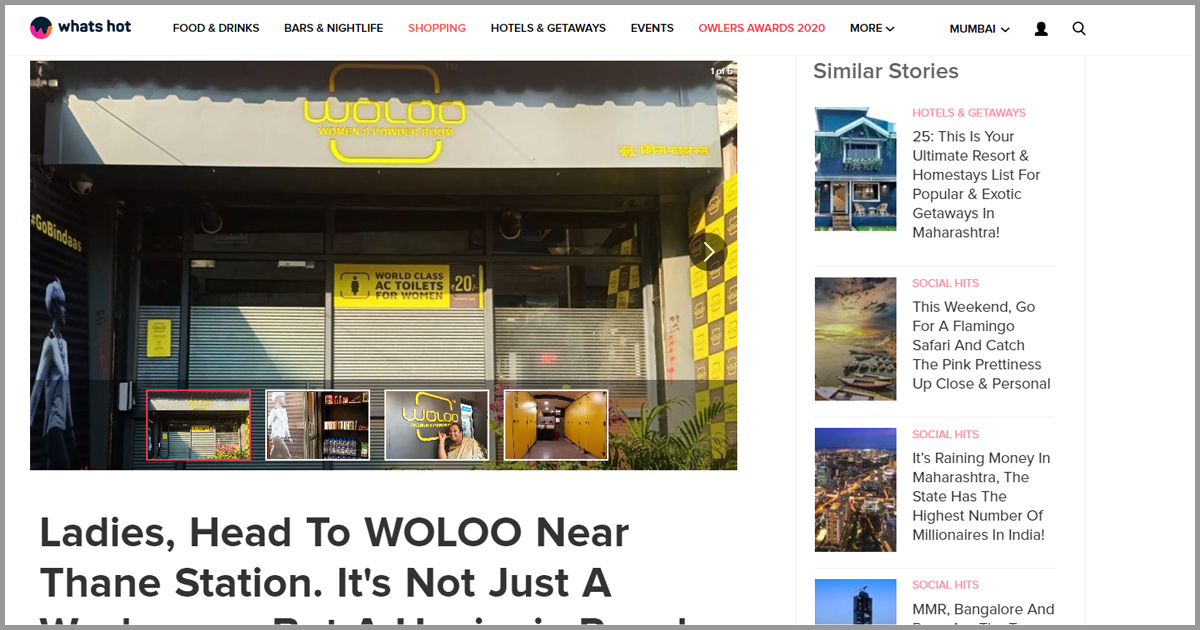 To the point: How many times do we avoid drinking water so that we don't have to pee in public washrooms? Plus, the stink of the public toilets. Yuck! That makes us even more averse to the idea of using public washrooms aka Sulabh Shauchalaya. And don't even get us started on the ones at local railway stations.
But hold up! One woman entrepreneur, Shivkala Mudaliar is changing the game. She has along with Manish Kelshikar started WOLOO (Woman's Loo). It is not just a washroom but a unique powder room where hygiene and sanitation are given utmost priority.
It is a powder room with clean, hygienic toilets, CCTVs are installed nearby for security reasons (not inside the washrooms), and it has a small cafe where you can sit and sip fresh tea and coffee.
There is also a small convenience store where, ladies, you can buy toiletries, panties, beauty products and more. They also have readily available sewing kits that come handy if there are any tears or clothing malfunctions while travelling in Mumbai locals. Plus, for moms, there is a diaper changing station and also a breastfeeding room.
Each day at least 8 million people travel by Mumbai locals, out of which 41% are women. Why Thane? Well, its location played a key role. It connects the harbour and the central line in the local trains. WOLOO started operations on November 19, and it has become a safe space for women commuters. They either wait or change or use the facilities of this powder room.
You can pay Rs. 20 for entry, that is used to upkeep the powder room. There is also a nominal monthly subscription model of Rs. 499 per month. In the subscription module, ladies get a complimentary cup of tea, coffee, water and sanitary napkin, etc. Ain't that convenient? We like the concept too much and can't wait for more such WOLOOs in the City.
We hear Shivkala has 10 more WOLOOs in the pipeline at Mumbai's prominent locations by March 2020.
More power to you, gurl!
Where: Near Thane Station
When: 8 am to 10 pm everyday
Cost: Rs 20 onwards
Source: https://www.whatshot.in/mumbai/-woloo-near-thane-station-not-just-a-washroom-but-a-hygienic-powder-room-c-18912